Wide variety of weavings supported by our technical capabilities cultivated over a long period of time.
We utilize own integrated production system including yarn twisting process, warping process, and weaving process for the better quality control. Our production capability to cope with wide variety of weavings is supported by our technical skill cultivated over a long period of our company history. We set up the ideal bulk production system depending on the type of products while we test in advance through the pilot production facility. And we acquired FSSC 22000 certification in May 2016. This is the recognition of an international standard for food safety. We carry out thorough international standard sanitation management for the production line of the food packaging fabrics.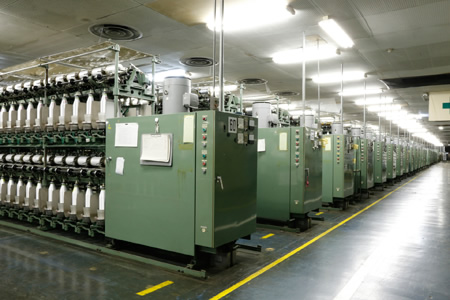 1. Twisting yarns
This process is important to realize delicate texture or accurate specification with various techniques before weaving.
Facility: Double twister, Up twister, False twister, and so on.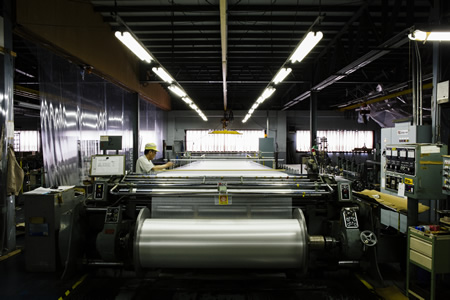 2. Warping
This is a process to prepare warp based on the construction of fabrics. We set yarns in parallel within the width of weavings, and wind them to a warping beam. They say "The warping is vital to produce fabrics with quality", which require accurate condition control.
Facility: Warping machine, Sectional warper, Sample warper, Sizing machine, and so on.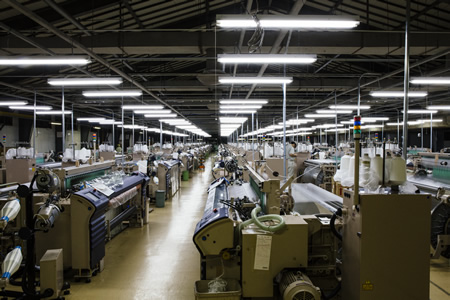 3. Weaving
After the process of warping, we start weaving weft. We uniquely modified various type of looms with our knowledge and we select the suitable weaving machine depending on the type of the products.
Facility: Air jet loom, Water jet loom, Rapier loom, Projectile Loom (Sulzer), and so on.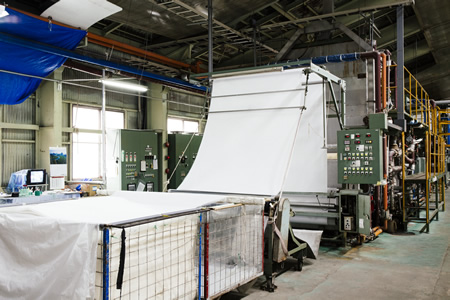 4. Scouring
We carry out scouring solution for certain products. Scouring is a process to remove stain and sizing agent adhered to fabrics before dyeing or finishing.
Facility: Scouring machine, tentering machine, and so on.
What's FSSC 22000?
FSSC is an abbreviation of Food Safety System Certification. It is a bench marked international standard which integrates international standard of food safety management system ISO 22000 and the developed standard ISO/TS 22002-1 (or ISO/TS 22002-4) made by Global Food Safety Initiative (GFSI).
The continuous Production and Sanitation management using HACCP system (HACCP – Hazard Analysis and Critical Control Point – management system to guarantee food safety by hazard analysis and managing CCP (critical control point) can reduce the risk of supplying unsafe food.