Our company was founded in 1891 with the production of silk woven fabrics for clothing. Afterwards we proactively challenged new textiles made of such fibers as Rayon, Cupra, Nylon, Polyester, etc. and successfully grew through the production of mainly thin woven fashion textiles with sensitive textures for export market. Since 1980's we have done various challenges to weave aramid fibers, carbon fibers, etc. for industrial fabrics based on our knowledge from sensitive fashion textiles in order to diverse our business.
Company Name
Hosokawa-Tex, Inc.
Established in
1891
Representative
Yasuo Hosokawa
Number of Employees
156 (in April 2018)
Business Contents
Weaving, scouring and dyeing of synthetic and natural fibers.
Company Address
1 Shoin, Kamiich-machi, Toyama
930-0395 Japan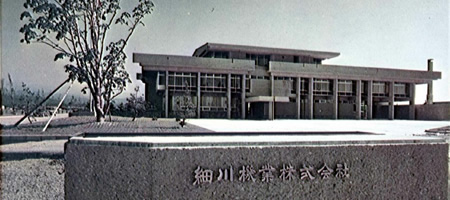 The exterior of the head office around 1971.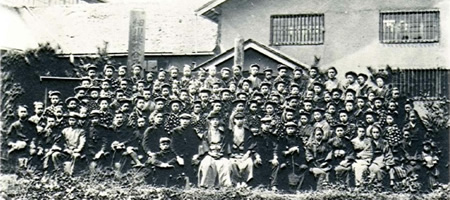 Group photograph of staffs in 1907.
Chronology
| | |
| --- | --- |
| 1891 | It was established under the name of 'Hosokawa Kigyo-jo', and started manufacturing silk fabric (Habutae) for the export market. |
| 1915 | Conversion to weaving crepe-de-chine. |
| 1917 | Kamiichi factory established in Kamiichi-machi. |
| 1920 | Scouring factory was newly established and the integrated production system of silk & rayon fabrics for the export market was completed. |
| 1932 | Success of development of georgette using Bemberg (cupra). |
| 1935 | Dyeing factory established in the site of scouring factory. |
| 1935 | Fire destroyed the major part of Kamiichi factory, scouring factory, and dyeing factory. |
| 1936 | Branch factory (Terada factory) established in Tateyama-cho. |
| 1948 | Company reorganized to Hosokawa Kigyo (Hosokawa-tex, Inc.). |
| 1954 | Start of manufacturing nylon fabric. Success of development of crepe-de-chine made of nylon. |
| 1955 | Start of manufacturing Tetoron (polyester) fabric. |
| 1955 | Acquisition of patent for manufacturing method of crepe fabric made of synthetic fiber. |
| 1964 | Otosugi factory established in Kamiichi-machi. The first phase of construction work was completed. |
| 1967 | Scouring factory established in the site of Otosugi factory. |
| 1969 | The Emperor and Empress visited our company to inspect our manufacturing system when they visited Toyama prefecture for the 20th national tree planting ceremony. |
| 1970 | 80th anniversary memorial ceremony. |
| 1974 | Production equipment in Kamiichi factory removed and relocated to Otosugi factory. |
| 1985 | Start of manufacturing aramid fiber fabric. |
| 1990 | 100th anniversary memorial ceremony. |
| 1990 | Technical support for Toray Textiles Europe Ltd. |
| 1996 | Start of manufacturing carbon fiber fabric. |
| 2005 | Start of manufacturing textile for tea bag. |
| 2009 | Start of manufacturing carbonized fiber fabric. |
| 2009 | Start of manufacturing insect screen |
| 2011 | Start of manufacturing agricultural net. |
| 2011 | Start of manufacturing base fabric for tile carpet. |
| 2015 | Start of manufacturing Washi-Cloth. |